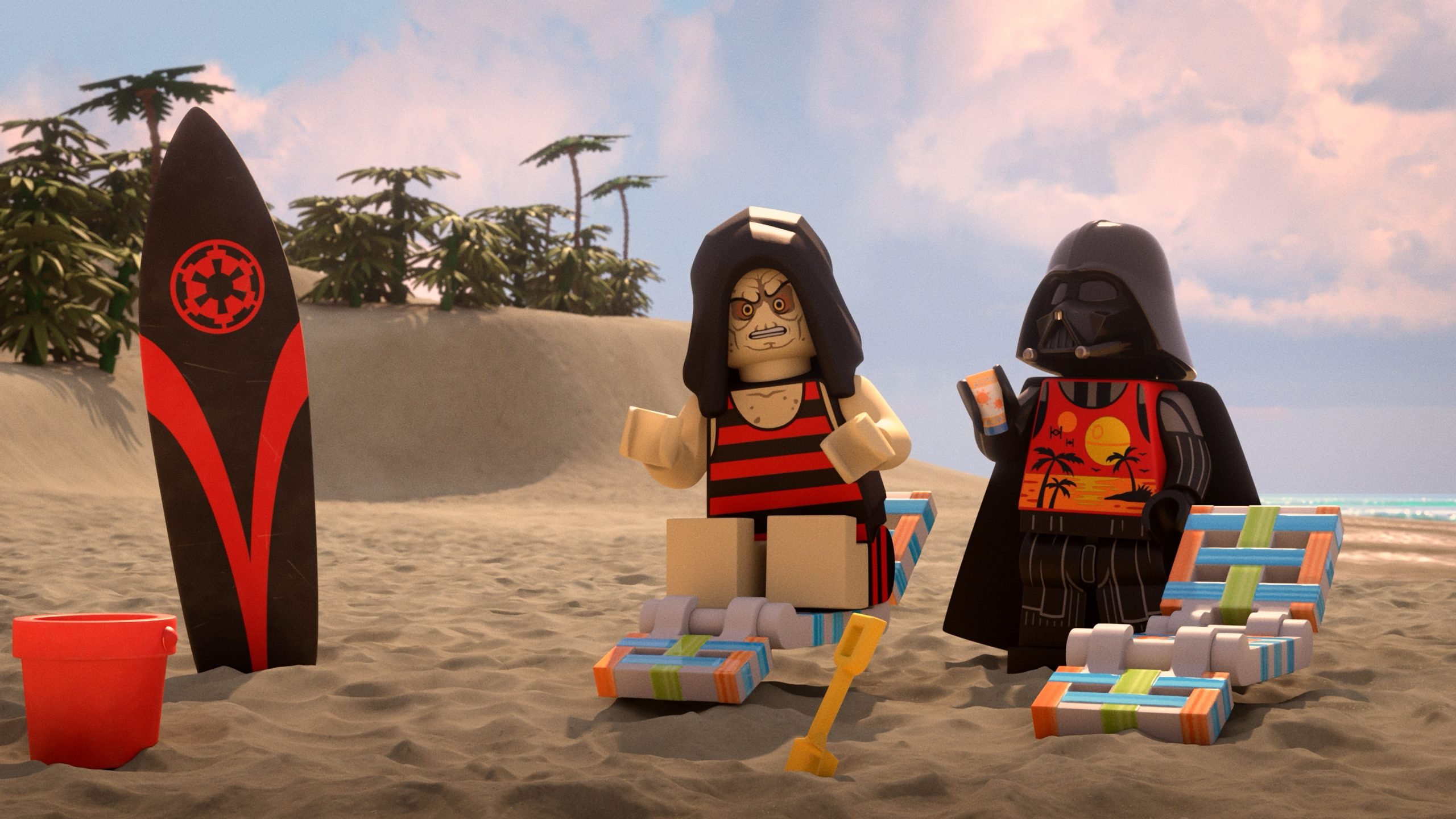 A brand new LEGO Star WarsDisney Plus animated special has been released titled LEGO Star Wars Summer Vacation. After celebrating Life Day in 2020 and getting scared by some terrifying tales last year, our main characters are now trying to relax and have some fun aboard (cue in Disney's shameless plug of their expensive hotel) the Halcyon starcruiser.
Finn is afraid of losing friends so he tries to maximize his time together. But he soon realizes that they are not all on the same boat. Rey prefers to relax by the pool, while Poe wants to take part in all the activities. The group disperses quickly, and Finn is visited by three Force ghosts while trying to find them. They attempt to teach him three important lessons. They are Anakin and Obi-Wan, and each tell a story about a trip they took back in the day.
It was a great experience. LEGO Star Wars Holiday Special That was released a few years ago. It was lighthearted, which I always enjoy. Star Wars doesn't take itself too seriously, something LEGO is obviously great at. Terrifying Tales, however, wasn't as memorable to me, and I am afraid this one is the one that worked the least for me, especially in the beginning. Obi-Wan's story was not good at all, and even though I don't mind when LEGO pokes some fun at our characters and exaggerates their personality (something that they did to great effect here with the Emperor, I think), I was not a fan of what they did with Obi-Wan. The flashback character in the movie or the Disney Plus series is different. This annoyed me a lot. I tried to remember these specials weren't meant to be taken serious, but the LEGO humor is something that I enjoy and it was frustrating in this section.
Another segment is about Darth vader and the Emperor. This segment was very enjoyable, oddly enough. I enjoyed the humor as well as the characters. Maybe it's because I'm already used to what they do with these two characters in the LEGO specials, and this was the perfect continuation of that, but I thoroughly enjoyed how the Emperor's influence over his apprentice, and Vader's almost total submission to his master.
General Leia Organa also tells us a story on Ben Solo. The story was compelling, but I enjoyed the Solo family dynamics as well as the father-son interactions. I know these are exaggerations and not to be taken seriously (they are probably not even canon, though I am not sure if a decision has been made either way), but I'll take what I can get.
To wrap up, I should also mention that these LEGO® figures are available for purchase. Star WarsSpecials continue to explore Finn's potential as a Jedi. Rey trained Finn in The Holiday Special, here it is made abundantly clear that if he were not a Jedi, he wouldn't be getting visits by Force ghosts. I don't know if Lucasfilm will ever explore this story thread in live-action, but the fact that at least they are acknowledging it even in a dumb Disney Plus special is certainly promising for now.
If you're looking for the next great, here are some suggestions. Star Warspiece of content, I strongly recommend waiting for Andor. If you're looking for lighthearted entertainment that will make your day go faster, check out this site. Summer Vacation.
LEGO Star Wars Summer VacationDisney Plus now has it. David Shayne is the author. Ken Cunningham serves as executive producer. It also features the voices "Weird Al"Yankovic plays Vic Vankoh, and Yvette Nicole Brown plays Colvett Valeria. Thomas Lennon plays Wick Cooper. Paul F. Tompkins plays Rad. Dee Bradley Baker plays Boba Fett. Ashly Burch portrays Sidero. Trevor Devall plays Emperor Palpatine. Trevor Devall is C-3PO. Trevor Devall plays Emperor Palpatine. Trevor Devall plays C-3PO. Trevor Devall portrays the Emperor. Allie Tran portrays Rose.
If you haven't seen it yet, you may consider checking out this clip that was released just before the premiere on Disney Plus:
Miguel Fernández is a Spanish student that has movies as his second passion in life. His favorite movie of all is The Lord of the Rings He is a huge Star Wars enthusiast. Fantasy movies are not his only interest. He has been obsessed with movies by Fincher, Scorsese, Kubrick, Hitchcock, and Fincher since he was able to understand the language behind filmmaking. He is the guy who will watch any movie in black andwhite just because it is black and white.
Similar Topics:
Minecraft Jenny Mod, Free Minecraft redeem codes, Lego Star wars retiring sets 2022, lego city, lego star wars mandalorian, minecraft jenny, duplo, harry potter legos, lego city undercover, lego star wars game, lego spider man, lego darth vader, paw patrol lego, pokemon lego sets, lego minecraft sets, lego.com classic, harry potter legos, upcoming lego star wars sets, lego star wars 2021, duplo, diagon alley lego,
Source link
Review: 'LEGO Star Wars Summer Vacation' is not a must-see, but might entertain you for an hour – Review